Los Angeles | October 30, 2023 – Google is rolling out an array of exciting updates to Google Maps, incorporating AI-driven enhancements designed to streamline the user's journey in searching, discovering, and reaching their desired destinations. These updates are geared towards offering users more information, convenience, and inspiration for their travels. Here's a breakdown of the latest features:
Improved Local Search: Google Maps has upped its game in assisting users in locating specific items or services near their current location. Whether you're on the hunt for a nearby coffee shop, a gas station, or a particular store, Maps is your trusted companion for swiftly pinpointing your requirements.
Activity Suggestions: Maps will now serve as your source of inspiration for things to do in your vicinity. This feature is your key to uncovering new and intriguing places, restaurants, parks, and events, making it simpler to plan your day or explore unfamiliar locales.
Navigation Interface Enhancements: The navigation interface within Google Maps has undergone significant improvements. These updates are designed to elevate your overall navigation experience, ensuring that you can easily view and interact with essential route information and details during your journey.
EV Charger Information: Electric vehicle (EV) drivers will find more information about charging stations. This feature will help EV owners locate nearby charging points and provide essential details about the charger type, availability, and pricing.
Expanded Features: Google is expanding its previously announced features to additional cities, ensuring that more users can access the latest updates and improvements. This expansion will help users in various locations benefit from these innovations.
These AI-powered additions to Google Maps are designed to provide users with a more seamless and comprehensive experience, whether you're searching for a nearby service, looking for things to do, navigating to a destination, or charging your electric vehicle. Google continues to make Maps a valuable tool for users seeking both convenience and inspiration during their journeys.
Google has introduced an update to enhance the Search feature within Maps, making it more convenient to locate specific places and items in your vicinity. When you perform a search for something like "animal latte art," you will now receive photo results related to your query. These results are generated by analyzing pictures shared by users on Google Maps, utilizing advanced artificial intelligence and image recognition models. By presenting these images, Google aims to simplify your quest for discovering new establishments that offer precisely what you are seeking.
In this scenario, if you come across an appealing image of adorable animal latte art, you can simply click on it to obtain further information about the coffee shop that created it and obtain directions to reach it.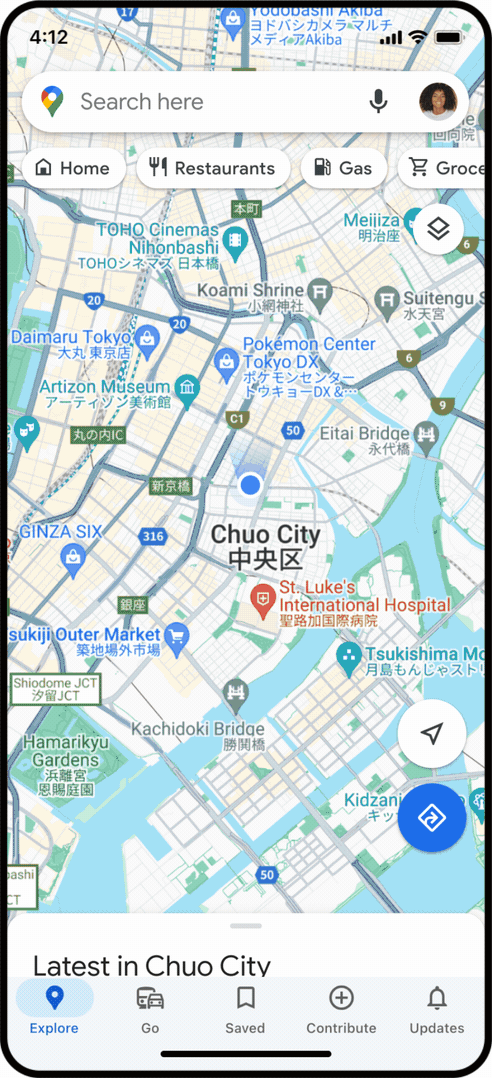 Source: Google
Google has also revealed plans to enhance the accuracy of the Maps navigation interface in depicting your surroundings. For example, when driving in urban areas, you will notice more lifelike representations of buildings, making it easier to orient yourself. Furthermore, the map will sport refreshed color schemes, offering a more vibrant and user-friendly experience. On highways, you can expect improved lane guidance, which will be particularly valuable in situations where you need to swiftly traverse multiple lanes to make your desired exit.
These updates are set to be gradually introduced over the next few months in 12 countries, including the United States, Canada, France, and Germany.
For drivers in the United States, there's good news on the horizon. They will soon have access to information about High Occupancy Vehicle (HOV) lanes along their routes, aiding in more efficient navigation. Meanwhile, in Europe, Google is extending its AI-driven speed limit data to encompass 20 additional countries. These valuable features will be gradually introduced in the coming months across Android, iOS, and vehicles equipped with Google Built-in technology.
Furthermore, for Electric Vehicle (EV) drivers using Android and iOS, there will be an added layer of information regarding the charging stations displayed on their maps. This will include details about whether a charger is compatible with their specific vehicle and the charging speed it offers, whether it's fast, medium, or slow. What's more, you'll have the ability to check the last time a charger was used, ensuring that it's in working order, and preventing you from embarking on a journey to a non-functional charging station.
Google has announced the extension of several AI-powered features to additional cities. Immersive View for Routes, a tool that allows you to preview your journey, whether by car or on foot, will now be available in cities such as Amsterdam, Barcelona, Dublin, Florence, Las Vegas, London, Los Angeles, Miami, New York, Paris, San Francisco, San Jose, Seattle, Tokyo, and Venice on both Android and iOS platforms.
Moreover, Google is introducing Lens in Maps, formerly known as Search with Live View, to over 50 new cities, including Austin, Las Vegas, Rome, São Paulo, and Taipei. This feature employs AI and augmented reality to enhance your understanding of your surroundings, providing information about nearby ATMs, transit stations, restaurants, and other points of interest.